A couple of good milling turning images I found:
"A Time To Reap, A Time To Grind, Turn, Turn, Turn"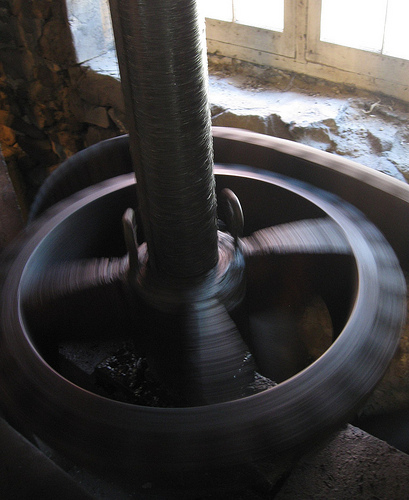 Image by Puzzler4879
***NO MULTI-GROUP OR STRING INVITATIONS, PLEASE!! ONLY A single INVITATION AT A TIME!***
I took a likelihood on this shot of the mill gears turning at the Red Mill Museum Village in Clinton, New Jersey. Taken with my trusty Canon A580 P&ampS on complete auto. I thought the sense of movement came via quite nicely, but could use some ideas for the future. Hope you like it! And my apologies to The Byrds and The Lord for the tweaking of song lyrics and Scripture!!
The Red Mill began its life processing wool in 1810, but later ground feed, flour, stone, graphite and talc. Nowadays its exhibits trace this fascinating 200 year history in a beautiful setting. You can go to this great historic treasure, one of the most photographed locations in New Jersey, at www.theredmill.org.
Please View On Black.
Vintage Grist Mill


Image by capn madd matt
The Glade Creek Grist Mill was restored in 1976 at Babcock. Totally operable, this mill was built as a re-creation of a single which when ground grain on Glade Creek lengthy prior to Babcock became a state park. Identified as Cooper's Mill, it stood on the present place of the park's administration constructing parking lot.
Of specific interest, the mill was developed by combining components and pieces from 3 mills which after dotted the state. The standard structure of the mill came from the Stoney Creek Grist Mill which dates back to 1890. It was dismantled and moved piece by piece to Babcock from a spot close to Campbelltown in Pocahontas County. Soon after an accidental fire destroyed the Spring Run Grist Mill close to Petersburg, Grant County, only the overshot water wheel could be salvaged. Other components for the mill came from the Onego Grist Mill close to Seneca Rocks in Pendleton County.
A living monument to the over 500 mills which thrived in West Virginia at the turn of the century, the Glade Creek Grist Mill supplies freshly ground cornmeal and buckwheat flour which park guests may possibly obtain. Guests to the mill might journey back to the time when grinding grain by a rushing stream was a way of life, and the groaning mill wheel was music to the miller's ear.