Some cool swiss turning pictures:
Chapel door in Swiss Alps


Image by PeterThoeny
Thank you everybody for visiting, commenting and fav'ing – extremely a lot appreciated!
In January I visited my tiny hometown Schuders in the Swiss Alps. I took this photo of the nearby chapel with an HDR iPhone app. I typically do not like the high quality of these apps – there is no handle over the look of the HDR photo. This 1 turned out OK. I did a bit of post-processing: I turned the stone floor monochrome because it had a yellowish tone that disturbed the composition of the image.
I am searching forward to feedback on how to improve my photo capabilities, be it technical, artistic or post-processing how-to. Do you have any?
HDR, two exposures, iPhone, Img_2169_hdr2nat
What's in my bag Could 1st, 2011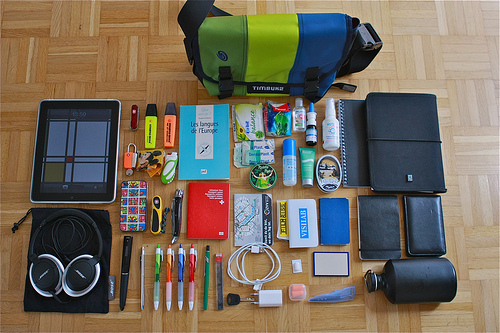 Image by Do8y
That is my first shot of my bag because I succumbed to the charm of Timbuk2. The truth is that I initially did not want a Timbuk2, but Crumpler, which was my initial selection didn't have bags that little. So after a long search I decided to take a second look at Timbuk2. It turned out that the initial design and style, which I did not like at all was changed. Just before the Timbuk2 bags were a large stuff-it-all location and a small pouch kind of hanging above that, which have been the smaller pockets. I examined quite very carefully their bags online (yes, think it or not, there is no retailer in Zurich, Switzerland officially distributing them). I fell in adore with the new X-small design and style and the possibility to customise the colours.
Actually what was my principal objective is to have a extremely little but hugely functional bag, which although limiting the quantity of issues I lug around will let simple access to every item I manage to stuff in it.
The above may look significantly, but it actually doesn't feel like this when it is in the bag and you really have to see my earlier bags if you consider this is heavy.
Oh, iPad owners note this – your iPad will perfectly match in that back (slash) pocket of the X-small Timbuk2 bags, even if it is in a small sleeve (mine, a Tucano, is not shown on the above picture).
So right here is what I ordered:
Custom Messenger
size: X-little
ballistic nylon spinach / ballistic nylon limeade / ballistic nylon blue
binding: navy
logo: navy
liner: orange
slash pocket
reflector tabs
proper handed
Would enjoy if you like, or fave the image or if you link externally to it to leave a quick comment on what you like about it.
Boarding Swiss


Image by PeterThoeny
Thank you absolutely everyone for visiting, commenting and fav'ing – very significantly appreciated!
I was the last particular person boarding Swiss at Zurich Airport in January, bound for San Francisco. I took the chance to take this HDR photo using an HDR app on the iPhone. I post-processed it with Photomatix Pro, e.g. it is double HDR – a bit on the paintery side. What do you consider? Overdone? OK? Personally I feel it turned out not also poor, taking into consideration that this photo is accomplished on the iPhone.
HDR, 2 exposures, iPhone. IMG_2283_hdr2pai2b