Some cool tool grinding photos:
Wipperkotten – winter light at the river Wupper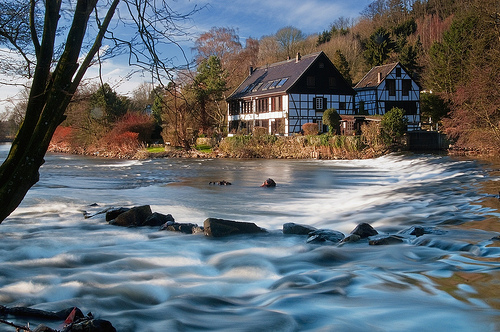 Image by U Kersting
The Wipperkotten in the Bergisch Land was constructed as a grindery in about 1605 and it is the last existing twin constructing of formerly 26 grinding sheds at the reduce river Wupper.
It was private initiative which brought this grindery plant with its water weir under historical
protection in 1955. Like in former instances, two undershot waterwheels are spinning between
both of these historical buildings. The land bound house is nonetheless utilised as grindery.
On a modest island in the Wupper there is our water side house. Its waterwheel was rebuilt in
1964. With its 32 wooden blades it accomplishes on to 42 BHP. ( 4,20 m)
The shown handmade tools and utensils from Bergisch grinderies are cultural documents of
the blade manufacturing . This was supported by the finding and extraction of ore
(ten. to 12. century) in this region.
Dortmund – Zeche Zollern II IV 08


Image by Daniel Mennerich
The Zeche Zollern II/IV (translated: Zollern II/IV Colliery) is positioned in the northwestern suburb of Bövinghausen of Dortmund, Germany. The Gelsenkirchener Bergwerks-AG projected Zollern in 1898 as a model colliery.
Ground up construction began in 1898 on a new website. Most of the buildings of the colliery were constructed in solid brickwork by the architect Paul Knobbe and had been completed in 1904 with the central engine house, in which the most up-to-date generators and machinery utilized in the colliery had been housed. The architecture and state-of-the-art technology help the transition of Gothic-revival to Art Nouveau and the industrialization of the early 1900s.
Due to deadline stress, the central engine property was built in iron framework building with infilling of red brickwork, planned and executed by the Gutehoffnungshütte. The Art Nouveau styled major entrance was made by the Berlin architect Bruno Möhring, it shows a lead glazing of blue, green and-glass. Counterpart of the main entrance is the massive control board of polished marble in brass mounting, with a brass clock hanging from above.
Other buildings on the web site consist of administration bureaus, blacksmith's shop and carpenter's shop, first-aid and fire station with stable, pithead baths, tools shop and the central gateway.
In 1969, three years following it closed down, the colliery was recognized as Germany's 1st technical developing monument of international importance. Given that 1981, it has been the headquarters of the Westphalian Industrial Museum.
The original pit frames had been scrapped before 1969, two comparable constructions from other collieries had been reconstructed on this web site in the 1980s.
The museum is an anchor point on the European Route of Industrial Heritage.
Grinding stone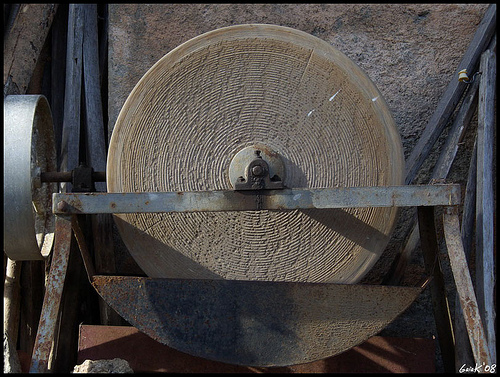 Image by GaiaK